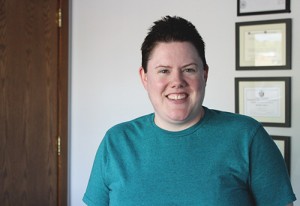 Making the decision to enter therapy is one of strength and courage, and I hope to empower you through the process. I am passionate about helping you on your journey toward self-discovery and living life to the fullest, while mending the pain that has happened along the way.
I believe in starting where you're at and developing a treatment plan that works to enhance your strengths while working through issues that are keeping you from living your life to the fullest. I bring a great deal of experience working with children and adults of all ages with mental health and alcohol and other drug abuse issues.
I can help you with alcohol & drug abuse, depression and anxiety. I can also help individuals with LGBT issues.
I look forward to the opportunity to work with and help move your life forward in a meaningful and compassionate way.
Education: Master of Social Work
Areas of Expertise: Alcohol & drug abuse, LGBT issues, depression, anxiety
Availability: Evenings and weekends
Therapy types offered: Individual therapy, adults and children
Insurance/Cost: Some insurances accepted. Flexible pricing. Cash, check and charge accepted. Call me directly at 608-219-3504 for more information.